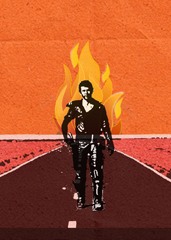 Mad Max is a 1979 Australian dystopian action film directed by George Miller, written by Miller and Byron Kennedy over the original script by James McCausland, starring Mel Gibson.
It became a top-grossing Australian film, holding the Guinness record for most profitable film for decades and has been credited for further opening up the global market to Australian New Wave films. It was also the first Australian film to be shot with a widescreen anamorphic lens.[3] The first film in the series, Mad Max spawned sequels Mad Max 2 (aka The Road Warrior) in 1981 and Mad Max Beyond Thunderdome in 1985. A fourth installment, Mad Max: Fury Road in 2015.
Plot
[
]
In a dystopic Australia, as the Earth's oil supplies are being exhausted, law and order has begun to break down due to energy shortages. A Berserk motorcycle gang member named Crawford "Nightrider" Montizano, having killed a Main Force Patrol (MFP) officer while escaping police custody, is attempting to outrun the other MFP officers in a stolen Pursuit Special (Holden Monaro). Though he manages to elude his initial pursuers, the MFP's top pursuit man, Max Rockatansky, then engages the less-skilled Nightrider in a high-speed chase that ends in the latter's death in a fiery crash.
Nightrider's motorcycle gang, led by Toecutter and Bubba Zanetti, is running roughshod over a town, vandalising property, stealing fuel, and terrorising the populace. Max and fellow officer Jim "Goose" Rains arrest Toecutter's young protégé, Johnny "the Boy" Boyle, who was too high to leave the scene of the gang's raping of a young couple. When neither the rape victim nor any of the townspeople show for Johnny's trial, the courts throw out the case. Goose, furious at Johnny's release, must be restrained as he and Johnny exchange violent threats. After Bubba Zanetti drags Johnny away, MFP Captain Fred "Fifi" Macaffee tells his officers to do whatever it takes to combat the gangs, "so long as the paperwork's clean."
A short time later, Johnny sabotages Goose's motorcycle. The next day, the motorcycle locks up at high speed, throwing Goose into a field. An uninjured Goose borrows a ute to haul his damaged bike back to civilization. However, Johnny and Toecutter are waiting in ambush, with the former throwing a brake drum at Goose's windscreen, causing him to crash the ute. With Goose unable to get out of the ute - and under pressure from Toecutter - Johnny throws a match into the gasoline leaking from the wreck, triggering an inferno which fatally burns the helpless Goose.
After seeing Goose's charred body, Max becomes disillusioned with the MFP, and the fear of losing his sanity convinces him to resign. His superior, Fifi, talks Max into taking a holiday before making his final decision about the resignation. While Max is having a mechanic repair a tire for his van, Max's wife Jessie and her infant son encounter Toecutter's gang, who attempt to molest her. She flees, but the gang learn of their destination from the mechanic and attack them at a remote farm owned by an elderly friend named May. After Jessie disables the van while evading the gang, she attempts to flee with her son on foot. The gang then runs over both of them with their motorcycles; Max arrives too late to intervene.
With his son killed instantly and Jessie near death, a rage-filled Max dons his police leathers and takes a supercharged black Pursuit Special (Ford XB Falcon) from the MFP garage to pursue the gang. After torturing the mechanic for information, and forcing several members of the gang off a bridge at high speed, Max methodically hunts down the gang's leaders. He shoots Bubba Zanetti at point blank range with a shotgun, though Johnny escapes when he sees Bubba killed. Later, Max forces Toecutter into the path of a semi-trailer truck.
Max eventually finds Johnny looting a car crash victim he presumably murdered. In a cold, suppressed rage, Max handcuffs Johnny's ankle to the wrecked vehicle and sets a crude time-delay fuse involving a slow fuel leak and Johnny's lighter. Throwing Johnny a hacksaw, Max leaves him the choice of sawing through either the handcuffs (which will take ten minutes) or his ankle (which will take five minutes). Max casually drives away, with Johnny's fate unknown after the vehicle explodes. Now a shell of his former self, Max drives on to points unknown, pushing deep into the Outback.
Cast
[
]
Mel Gibson as Max Rockatansky
Joanne Samuel as Jessie Rockatansky
Hugh Keays-Byrne as Toecutter
Steve Bisley as

Jim "Goose" Rains

Tim Burns as

Johnny the Boy

Geoff Parry as

Bubba Zanetti

Roger Ward as

"Fifi" Macaffee

David Bracks as

Mudguts

Bertrand Cadart as

Clunk

Stephen Clark as

Sarse

Brendan Heath as Sprog Rockatansky
Mathew Constantine as

Toddler

Jerry Day as

Ziggy

Howard Eynon as

Diabando

Max Fairchild as

Benno

John Farndale as

Grinner

Sheila Florance as

May Swaisey

Nic Gazzana as

Starbuck

Paul Johnstone as

Cundalini

Vincent Gil as The Nightrider
Steve Millichamp as "

Roop

"
John Ley as "

Charlie

"
George Novak as "

Scuttle

"
Reg Evans as the

station master

Nico Lathouris as

Car mechanic
Development
[
]
George Miller was a medical doctor in Victoria, Australia, working in a hospital emergency room, where he saw many injuries and deaths of the types depicted in the film. He also witnessed many car accidents growing up in rural Queensland and had as a teenager lost at least three friends in accidents.[4]
While in residency at a Melbourne hospital, Miller met amateur filmmaker Byron Kennedy at a summer film school in 1971. The duo produced a short film, Violence in the Cinema, Part 1, which was screened at a number of film festivals and won several awards. Eight years later, the duo produced Mad Max, working with first-time screenwriter James McCausland (who appears in the film as the bearded man in an apron in front of the diner).
Miller believed that audiences would find his violent story to be more believable if set in a bleak, dystopic future. Screenplay writer James McCausland drew heavily from his observations of the 1973 oil crisis' effects on Australian motorists:
Yet there were further signs of the desperate measures individuals would take to ensure mobility. A couple of oil strikes that hit many pumps revealed the ferocity with which Australians would defend their right to fill a tank. Long queues formed at the stations with petrol – and anyone who tried to sneak ahead in the queue met raw violence. ... George and I wrote the [Mad Max] script based on the thesis that people would do almost anything to keep vehicles moving and the assumption that nations would not consider the huge costs of providing infrastructure for alternative energy until it was too late. —James McCausland, writing on peak oil in The Courier-Mail, 2006[5]
Finance
[
]
Kennedy and Miller first took the film to Graham Burke of Roadshow, who was enthusiastic. The producers felt they would not be able to raise money from the government bodies "because Australian producers were making art films, and the corporations and commissions seemed to endorse them whole-heartedly," according to Kennedy.[6]
They designed a 40 page presentation and it was circulated among a number of different people, and eventually raised the money. Kennedy and Miller contributed funds themselves by doing three months of emergency radio locum work,with Kennedy driving the car while Miller did the doctoring.[6]
Miller claimed the final budget was between $350,000 and $400,000.[7]
Casting
[
]
George Miller deliberately wanted to cast lesser known actors so they did not carry past associations with them.[4]
Mel Gibson, who had only one film role in Summer City (1977), went to auditions with his close friend and classmate, Steve Bisley, who landed the part of Jim Goose. Gibson went to auditions in poor shape, as the night before he had got into a drunken brawl with three men at a party, resulting in a swollen nose, a broken jaw, and various bruises. Gibson showed up at the audition the next day looking like a "black and blue pumpkin" (his own words). He did not expect to get the role and only went to accompany his friend. However, the casting agent liked the look and told Gibson to come back in two weeks, telling him "we need freaks." When Gibson returned, the filmmakers did not recognise him because his wounds had healed almost completely; he received the part anyway.[8]
Many of the other cast had previously appeared in Stone (1974).
Production
[
]
Due to the film's low budget, only Gibson was given a jacket and pants made from real leather. All the other actors playing police officers wore vinyl pleather outfits.
Originally the film was scheduled to take ten weeks – six weeks of first unit, and four weeks on stunt and chase sequences. However four days into shooting, Rosie Bailey, who was originally cast as Max's wife, was injured in a bike accident. Production was halted and Bailey was replaced by Joanne Samuel, causing a delay of two weeks.
In the end the shoot took six weeks over November and December 1977 with a further six weeks second unit. The unit reconvened two months later and spent another two weeks doing second unit shots and re-staging some stunts in May.[6]
Shooting took place in and around Melbourne. Many of the car chase scenes for Mad Max were filmed near the town of Little River, just north of Geelong. The movie was shot with a widescreen anamorphic lens, the first Australian film to use one. [7]
The film's post-production was done at Kennedy's house, with Wilson and Kennedy editing the film in Kennedy's bedroom on a home-built editing machine that Kennedy's father, an engineer, had designed for them. Wilson and Kennedy also edited the sound there.
Tony Patterson edited the film for four months, then had to leave because he was contracted to make Dimboola. George Miller took over editing with Cliff Hayes and they worked on it for three months. Kennedy and Miller did the final cut.[6]
George Miller wanted a gothic, Bernard Hermann type score and hired Brian May after hearing his work for Patrick (1978).[4]
Vehicles
[
]
Max's yellow Interceptor was a 1974 Ford Falcon XB sedan (previously, a Victorian police car) with a 351 c.i.d. Cleveland V8 engine and many other modifications, which was donated by the Victorian police department since it was no longer in use.[9]
The Big Bopper, driven by Roop and Charlie, was also a 1974 Ford Falcon XB sedan and also a former Victorian Police car, also donated, but was powered by a 302 c.i.d. V8.[10] The March Hare, driven by Sarse and Scuttle, was an in-line-six-powered 1972 Ford Falcon XA sedan (this car was formerly a Melbourne taxi cab), which was purchased by the director with the finances and then tuned with scrap parts and painted to look like a police car.[11]
The most memorable car, Max's black Pursuit Special was a 1973 Ford XB Falcon GT351, a limited edition hardtop, (sold in Australia from December 1973 to August 1976) which was primarily modified by Murray Smith, Peter Arcadipane and Ray Beckerley.[12] After filming of the first movie was completed, the car went up for sale but no buyers were found; eventually it was handed over to Murray Smith (film mechanic).
When production of Mad Max 2: The Road Warrior began, the car was purchased back by George Miller for use in the sequel. Once filming was over the car was left at a wrecking yard in Adelaide since it again found no buyers, and was bought and restored by Bob Forsenko. Eventually it was sold again and was put on display in the Cars of the Stars Motor Museum in Cumbria, England.The museum recently closed and the Black on Black car is currently in a collection in the Dezer museum in the US, Miami.[13]
The Nightrider's vehicle, another Pursuit Special (one of 2 in the film), was a 1972 Holden Monaro Coupe HQ LS, also tuned but deliberately damaged to look like it has been involved in crashes.[14]
The car driven by the young couple that is vandalized and then finally destroyed by the bikers is a 1959 Chevrolet Impala Sedan, also pretuned to look like a hot-rod car with a fake supercharger, fatter tires and a flame red paint job.
Of the motorcycles that appear in the film, 14 were Kawasaki Kz1000 donated by the industry. All were modified in appearance by Melbourne business La Parisienne – one as the MFP bike ridden by 'The Goose' and the balance for members of the Toecutter's gang, played in the film by members of a local Victorian motorcycle club, the Vigilantes.[15]
By the end of filming, 14 vehicles had been destroyed in the chase and crash scenes, including the director's personal Mazda Bongo (the small, blue van that spins uncontrollably after being struck by the Big Bopper in the film's opening chase). All the crashes had to be taken in one shot.
Release
[
]
Mad Max was initially released in Australia through Roadshow Entertainment (now Village Roadshow Pictures) in 1979.[16]
The movie was sold overseas for $1.8 million, with American International Pictures to release in the US and Warner Bros. to handle the rest of the world.[7]
When shown in the U.S. during 1980, the original Australian dialogue was revoiced by an American crew.[17] American International Pictures distributed this dub after it underwent a management re-organisation.[18] Much of the Australian slang and terminology was also replaced with American usages (examples: "Oi!" became "Hey!", "See looks!" became "See what I see?", "windscreen" became "windshield", "very toey" became "super hot", and "proby" -probationary officer- became "rookie"). AIP also altered the operator's duty call on Jim Goose's bike in the beginning of the movie (it ended with "Come on, Goose, where are you?"). The only dubbing exceptions were the voice of the singer in the Sugartown Cabaret (played by Robina Chaffey), the voice of Charlie (played by John Ley) through the mechanical voice box, and Officer Jim Goose (Steve Bisley), singing as he drives a truck before being ambushed. Since Mel Gibson was not well known to American audiences at the time, trailers and TV spots in the USA emphasised the film's action content.
The original Australian dialogue track was finally released in North America in 2000 in a limited theatrical reissue by MGM, the film's current rights holders. It has since been released in the U.S. on DVD with both the US and Australian soundtracks on separate tracks.[19][20]
Both New Zealand and Sweden initially banned the film, the former due to the scene where Goose is burned alive inside his vehicle. It mirrored an incident with a real gang shortly before the film's release. It was later shown in New Zealand in 1983 after the success of the sequel, with an 18 certificate.[21] The ban in Sweden was removed in 2005 and it has been shown on TV and is also available in video stores.
Sources
[
]
   ^ "Mad Max : SE". DVD Times. 19 January 2002. Retrieved 2009-03-12.
   ^ Mad Max
   ^ "Technical Specifications for Mad Max". IMDb.com. Retrieved 2012-04-09.
   ^ a b c Scott Murray & Peter Beilby, "George Miller: Director", Cinema Papers, May–June 1979 p369-371
   ^ James McCausland (4 December 2006). "Scientists' warnings unheeded". The Courier-Mail (News.com.au). Retrieved 2010-04-26.
   ^ a b c d Peter Beilby & Scott Murray, "Byron Kennedy", Cinema Papers, May–June 1979 p366
   ^ a b c David Stratton, The Last New Wave: The Australian Film Revival, Angus & Robertson, 1980 p241-243
   ^ Mary Packard and the editors of Ripley Entertainment, ed. (2001). Ripley's Believe It or Not! Special Edition. Leanne Franson (illustrations) (1st ed. ed.). Scholastic Inc. ISBN 0-439-26040-X.
   ^ "Mad Max Cars – Max's Yellow Interceptor (4 Door XB Sedan)". Madmaxmovies.com. Retrieved 2010-07-14.
   ^ "Mad Max Cars – Big Boppa/Big Bopper". Madmaxmovies.com. Retrieved 2010-07-14.
   ^ "Mad Max Cars – March Hare". Madmaxmovies.com. Retrieved 2010-07-14.
   ^ "Mad Max Movies – The History of the Interceptor, Part 1". Madmaxmovies.com. Retrieved 2010-07-14.
   ^ "Cars of the Stars Motor Museum". Carsofthestars.com. Retrieved 2009-03-07.
   ^ "Mad Max Cars – The Nightrider's Monaro". Madmaxmovies.com. Retrieved 2010-07-14.
   ^ "Mad Max Cars – Toecutter's Gang (Bikers)". Madmaxmovies.com. Retrieved 2010-07-14.
   ^ Moran, Albert; Vieth, Errol (2005). "Kennedy Miller Productions". Historical Dictionary of Australian and New Zealand Cinema. Scarecrow Press. p. 174. ISBN 0-8108-5459-7. Retrieved 3 August 2011.
   ^ Herx, Henry (1988). "Mad Max". The Family Guide to Movies on Video. The Crossroad Publishing Company. p. 163 (pre-release version). ISBN 0-8245-0816-5. |accessdate= requires |url= (help)
   ^ McFarlane, Brian (1988). Australian Cinema. Columbia University Press. p. 30. ISBN 0-231-06728-3. Retrieved 3 August 2011.
   ^ "Gibson's Voice Returns on New 'Mad Max' DVD". Los Angeles Times. 29 December 2001. Retrieved 2011-07-17.[dead link]
   ^ "Mad Max (1979)". The New York Times. Retrieved 2011-07-17.
   ^ Carroll, Larry (3 February 2009). "Greatest Movie Badasses Of All Time: Mad Max – Movie News Story | MTV Movie News". Mtv.com. Retrieved 2010-07-04.
   ^ Phillip Adams, The Bulletin, 1 May 1979; cited by urban cinefile, 2010, "Mad Max". Adams has since remained a prominent opponent of screen violence. He has also been consistent in his criticism of Mel Gibson's political and social opinions.
   ^ Buckley, Tom (14 June 1980). "Mad Max". The New York Times. Retrieved 2010-04-26.[dead link]
   ^ By (1979-01-01). "Mad Max Review – Read Variety's Analysis Of The Movie Mad Max". Variety.com. Retrieved 2009-03-07.
   ^ "Mad Max". Rotten Tomatoes. Retrieved 2010-05-27.
   ^ "The Best 1,000 Movies Ever Made". The New York Times. 29 April 2003. Retrieved 21 May 2010.
   ^ "Mad Max". The Numbers. Retrieved 2010-04-26.
   ^ Awards for Mad Max at the Internet Movie Database
   ^ Film Victoria – Australian Films at the Australian Box Office