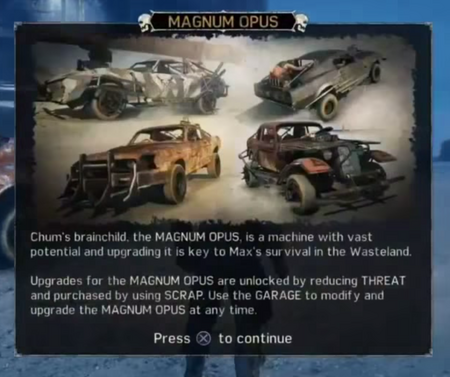 "The Magnum Opus, my life's work. She is the Angel Combustion becoming flesh - or steel, as it is. Since the Angel Combustion sent me the Warrior Saint, I am sure of my destiny."
The Magnum Opus is the main vehicle of the Mad Max video game.
Chumbucket's brainchild, the Magnum Opus is a machine with vast potential and upgrading it is key to Max's survival in The Wasteland. Upgrades for the Magnum Opus are unlocked by reducing Threat and purchased by using Scrap

. Use The Garage to modify and upgrade the Magnum Opus at any time.
The Magnum Opus can be crafted into specific configurations called Archangels.
Bodies
[
]
Pinky Finger

Celestial Bones

Righteous Spike

Speed Demon
Description
[
]
"The fastest, meanest, most outstanding, one-man survival vehicle ever built in this Wasteland."
Notable quotes
[
]
"See the sanctified spectacle that is Death Rattle. Our Magnum Opus would look good in such a cracking frock!"
Gallery
[
]